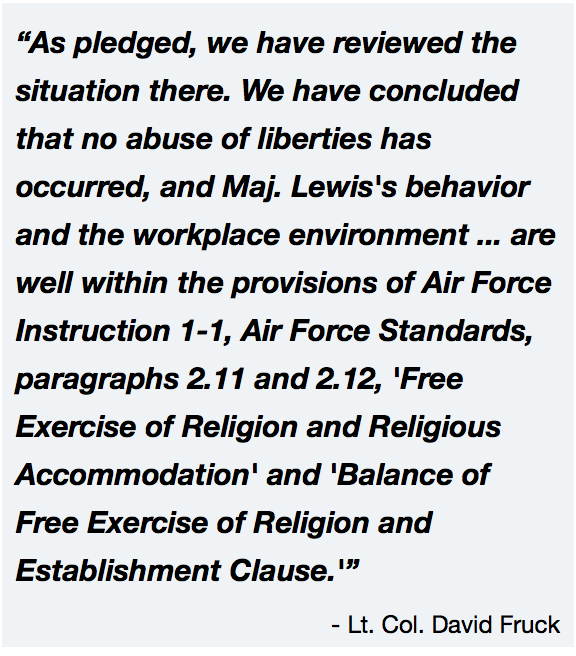 What are you planning to do when they come for your religious freedoms? Are you ready to be forced to pray in secret? Are you ready for underground worship and hidden church meetings? The more wicked our world becomes, the more scarce the truth will be. The day is coming when we will be forced to fight for the right to worship our Lord. Stay focused believers, the end is near! – G. Craige Lewis

COLORADO SPRINGS (Christian Examiner) – The U.S. Air Force has ruled that an officer at Peterson Air Force Base who had an open Bible on his desk was not in violation of military regulations and the Bible can return to where it was.
Last week, the Military Religious Freedom Foundation – led by former Air Force officer Mikey Weinstein, who claims Christians are trying to take over the military and subvert the Constitution – alleged the presence of the open Bible with highlighted passages was an act of coercion on the enlisted personnel who came near the officer's workstation.
Weinstein called the open Bible a "brazen display of sectarian Christian triumphalism and exceptionalism" on the part of Maj. Steve Lewis. He also said there would be "limitless, overflowing blood in the streets" if a Quran or a Book of Satan was allowed on the desk.
He demanded in a letter to Col. Damon Feltman, commander of the 310th Space Wing, that Lewis and an officer over him who allowed the display be swiftly and severely punished for the "egregious" violation.
Feltman responded quickly to Weinstein's letter and said he would investigate the matter. The Bible was removed from the desk during the course of the investigation. Read More Here
Grace in the workplace is a video that is without comparison. This dynamic 5-part series deals with Christian conduct and not in the way that you are accustomed to hearing! In order to be a light in the world, you must first, be a good earthly citizen. Many times, we are bombarded with messages that we should be laying hands on the sick and raising the dead on our jobs, but this is not appropriate or warranted in every situation. We hear analogies of how we should be like Jesus in our workplace by evangelizing all of our co-workers and speaking out as against certain agendas that are supported by our employing companies. However, we ignore the very simplistic nature of Christ such as humility, timeliness, patience and self-control that are vital to becoming model citizens.
G. Craige Lewis of EX Ministries makes the compelling case of God's plan for us by fulfilling our creation roles that is heavily supported by sound Biblical doctrine. With proper application of the scriptural principles and precepts contained in this installment, you and your family will be blessed for generations to come. It is time that we model a godly example for our children to follow. Being a light for Jesus in this dark world demands that we first prove ourselves as good, responsible and well-balanced citizens. Click here to get your copy now!